Translink is "being evasive on exactly how much money is being spent on this."

via Compass Card program delayed again by TransLink – British Columbia – CBC News.
How's that for not surprising.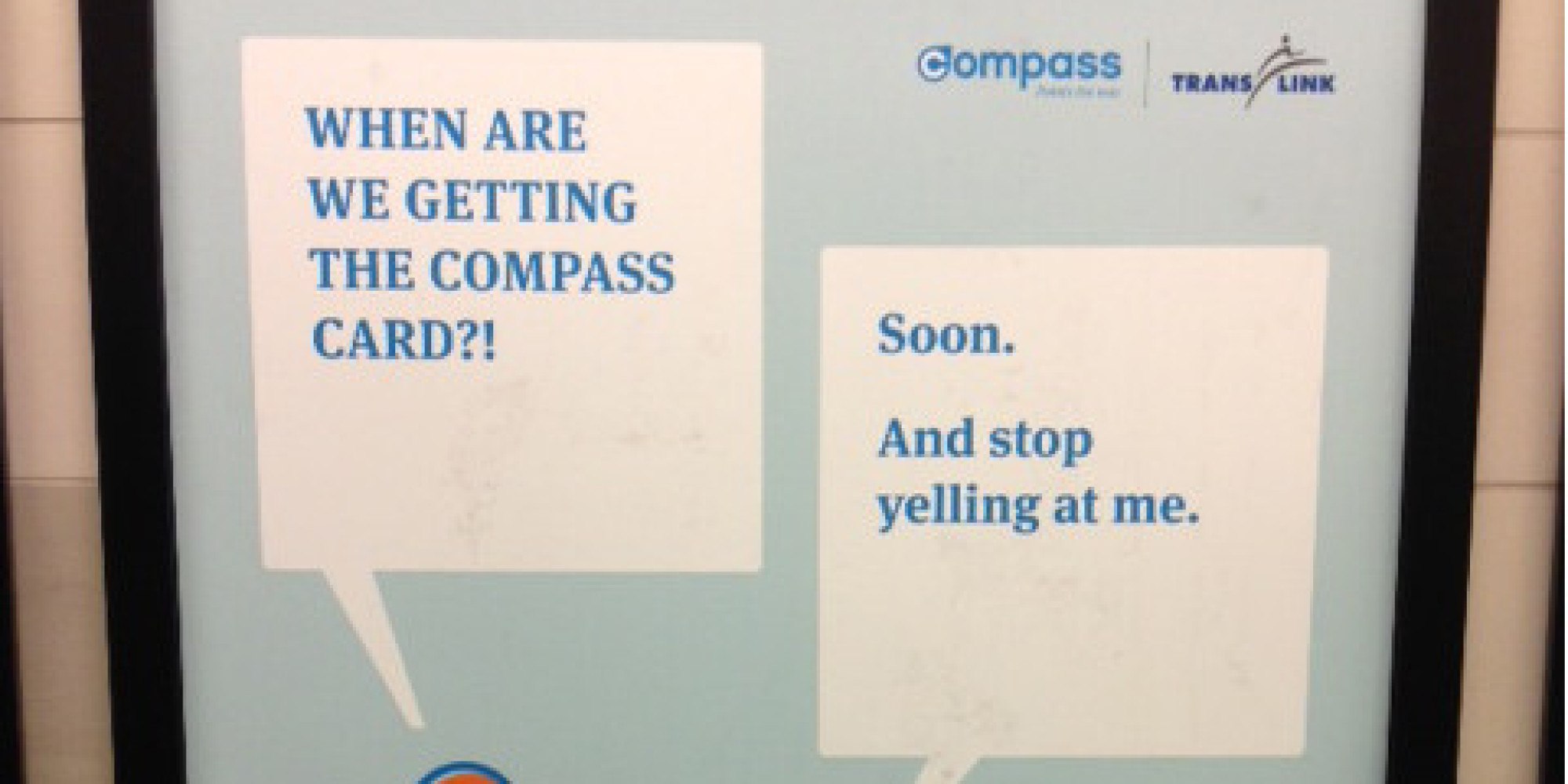 Translink is notorious for its taxation without representation: taking municipalities' money without providing democratic representation to municipalities. This was a gift from the provincial government years ago to keep local communities from directing their transportation infrastructure.
And now, Translink continues to be evasive about how much money they're spending on the Compass card system and turnstiles, in place ostensibly to stop fare evasion. They've always been unclear on how much fare evasion is taking place and how the turnstiles will fix that, without costing millions of extra dollars.
And all of this skirts the debate that transit should be fare free anyway. Sigh.
But now, I have quite a bit more sense of how Translink impedes transit use. Yesterday I tweeted to the universe this futile yet obvious observation:
How are shops actually AT #skytrain stations not REQUIRED to sell fare savers and bus passes?! #Translink #vanpoli #burnaby #richmondbc

— Politics, Re-Spun (@PoliticsReSpun) July 8, 2014
Turns out, Translink didn't reply to my tweet. Maybe they're understaffed [but I know they monitor their hashtags].
Today I spoke with a small business operator who had a Fare Dealer sign in the window. I wanted to buy fare savers. He was out, and even more frustrated than me:
He has to pay up front for fare savers and bus passes.
He can only put in 2 orders each month; Translink explained that they're too understaffed to take more orders.
Large retailers like London Drugs get an infinite amount of Translink fare products, and on credit.
So a few things are clear here, unless Translink can somehow credibly refute the above 3 points:
Translink impedes transit use by making it too complicated to get fare savers and fare cards, quite the opposite of requiring shops at Skytrain stations to stock fare products.
Translink is funded by federal, provincial, municipal and gas tax revenue but won't allocate sufficient staffing to allow riders to get effective access to fare products.
The Compass card is just another elaborate corporate welfare scheme based on a right wing government policy decision to install the system to stop fare evasion [poor bashing] despite not providing a sound business plan and without sufficient transparency to see if the Compass system provides value for money.
Fares are a tax on the poor. A tax system designed with dignity and respect for various income classes is a progressive system that taxes the rich more than the poor. Then it spends that money on public goods like a high quality free public education, health and transit systems. Instead, we have MSP premiums going up, underfunding of education and increasing transit fees.
If the governments really cared about climate change and building a post carbon energy infrastructure, transit would be free. No turnstiles. More Skytrain cars. More buses. Less cars. More green electricity being used to move more people.
Related articles across the web